Welcome!
We started Kaleidoscope Theatre Company in 2002 to bring the magic of live theatre to children and their families. Some of our current productions are more appropriate for older children and adults.

We are a professional, non-equity company.
We are a 501(c)(3) nonprofit organization incorporated in the Commonwealth of Virginia.
If you would like to learn more about our organization or volunteer, please contact us!
Thank you for visiting our Web site!


Rob Cork
Artistic Director

A response from an audience member:
Our family just returned from watching your production of "The Lion, the Witch and the Wardrobe" at the National Theatre this morning. I wanted to write and thank you for all the effort, time, creativity and talent used in preparing this production. We loved it! Our kids are true fans of the Narnia books. We enjoyed your creative approach to bringing this book to life. It was great to see how flexible the actors could be as they involved children from the audience. The ability to portray so many characters with only two people was impressive. Thank you also to the actors and producers for taking the time to talk with the children afterwards.
Thank you for the gift of this performance. We had a great time!
Sincerely,
Suey N. and Family
Woodbridge, VA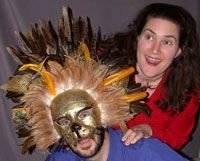 Photo by Beverly H. Shaw