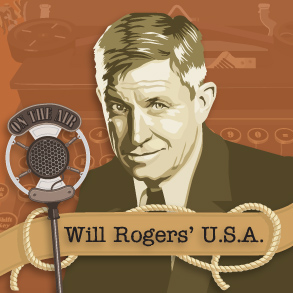 Will Rogers' wisecracking, folksy humor and topical philosophical observations made him one of America's most popular entertainers throughout the long days of the Great Depression.

In Will Rogers' U.S.A., actor Rob Cork aptly recreates the rope-twirling and slyly grinning comedian in select moments from some of his most characteristic and strikingly relevant stage and radio performances.


Will Rogers' U.S.A.
is available for performances at your venue. Running time for the production is one hour, which includes time for questions. School schedules can also be accommodated. Required performance space is approximately 10 feet deep by 15 feet wide, preferably in a meeting room with a carpeted floor or a stage. We book programs on weekdays, weekends, and evenings, as our schedule permits.

Please contact us for additional details, including our current fee schedule.
News Release
This production is presented by special arrangement with George Spota Productions of Hollywood, California. Will Rogers' U.S.A. was adapted from the words of Will Rogers by Paul Shyre and originally produced by George Spota. Bryan Sterling selected and edited the original material.

---
Will Rogers was born William Penn Adair Rogers on November 4, 1879 on his family's ranch two miles East of Oologah, Indian Territory, which later became the state of Oklahoma. He was the youngest of eight children born to Clem and Mary Rogers. Both of his parents had Cherokee Indian ancestry, and Will was approximately 1/4 Cherokee. Only three of his siblings, sisters Sallie Clementine, Maude Ethel, and May (Mary), survived into adulthood.

Will Rogers had a unique perspective on the people and places of his day, the early 1900's. He performed for people all over the world, beginning as a trick roper in circuses and wild west shows and later in Vaudeville and the Ziegfeld Follies. His roping act expanded to include timely social commentary. He appeared in motion pictures, on the radio, wrote newspaper columns, and was an avid public speaker. He saw our country transformed from open plains and farms to bustling cities. He was beloved by regular people, politicians, and world leaders, and said that his epitaph should read that, "...I never met a man I didn't like." Those words are engraved on his tomb in Claremore, Oklahoma.
He was married to Betty (Blake) Rogers (1879-1944) and they had four children: Will Rogers Jr., Jim, Mary, and Fred, who died from diphtheria at the age of two. Will died on August 15, 1935 in a plane crash in Alaska with Wiley Post.
---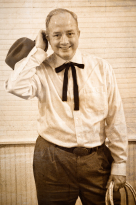 Rob Cork first learned about Will Rogers when he saw his first Broadway musical, "The Will Rogers Follies," in 1992. He later appeared in two different productions of the musical in the Washington, D.C. area. He co-founded Kaleidoscope Theatre Company in 2002.

Favorite roles include Jungle Cruise Skipper at Walt Disney World, Charlie Davenport in "Annie Get Your Gun," and Melbrook the Jester in "Rumplestiltskin." He first appeared in "Will Rogers' U.S.A. at the Capital Fringe Festival in Washington D.C. in 2012 and is delighted to continue to bring it to audiences around the country.
The reviews are in!

- "Kaleidoscope has Will Rogers' simplicity and gentle nature down to a science..." - MoCoVox.com, November 30, 2012

- "Everyone should see this play..." - DCMetroTheater Arts, July 15, 2012

- "Will Rogers' U.S.A. celebrates his unique sincerity, wit and wisdom." - DC Theatre Scene, July 16, 2012

- "Will Rogers' U.S.A. celebrates this great man." - MD Theatre Guide, July 19, 2012